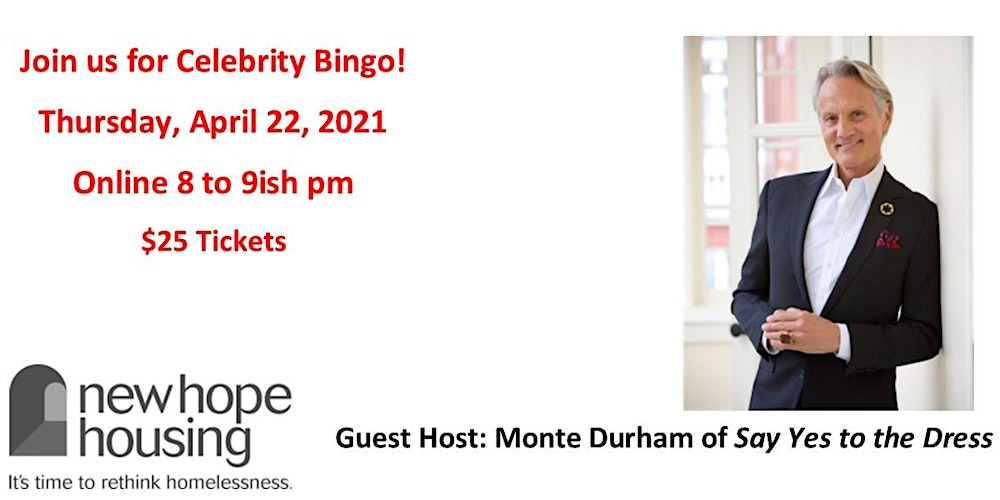 Join us for online Bingo with guest host Monte Durham!
We're getting our vaccines but not quite ready to go out and play. So stay home and play some Bingo with us on Zoom! We've got some great prize baskets and a wonderfully witty host in Monte Durham. We'll play 5 (or 6) games of Bingo with a special bonus round.
Individual tickets are $25 to play all 5 (or 6) games. Like playing multiple boards? Chose the $35 ticket option to play 2 boards at once for each game!
In honor of Earth Day and keeping paper to a minimum, we'll be emailing your unique game boards as pdfs that you can use to play on screen, or choose to print at home if you wish.
Ticket Options:
1 Board Per Game (One Bingo game card for each of 5 games) – $25
2 Boards Per Game (2 Game Boards per game for the same player) – $35
Many thanks to our Game Sponsors (so far!): Kinneman Insurance & Nationwide Credit Corporation
Additional sponsorships are available! Contact Jan Sacharko at [email protected] for sponsorship info.
Your game boards will be emailed with instructions no later than April 15th along with the event link. Questions? Call or email Jan Sacharko, 703-799-2293 ext 27 / [email protected]
More on Monte:
Monte Durham is the Fashion Director at Bridals by Lori, the South's premier bridal salon featured on TLC's Say Yes to the Dress: Atlanta.
Monte also hosts the ever popular TLC Say Yes To The Prom Initiative; an initiative that makes prom more accessible for girls across the country with mentorship, dresses, make up and accessories; dedicated to providing a once in a lifetime experience.
A native of small-town West Virginia, Monte describes his ascension from one-room schoolhouse to the fashion industry an unlikely story. Before he found his way to bridal, Monte worked in fashion merchandising and hair styling, then made a name for himself as a Washington, D.C.-based bridal image consultant.
His work has appeared in the pages of Seventeen Magazine, Gladys Magazine, Elegant Bride, The Washingtonian, The Washington Post, The New York Times, Martha Stewart Living, Town & Country, Beautiful Bride, InStyle, and Brides Magazine. Monte's no-nonsense fashion commentary and naughty sense of humor have made him a favorite and regular guest on CNN and Fox. As well, Monte has appeared on several talk shows providing expert commentary on Bridal and Prom Fashions; The Steve Harvey Show, Pickler & Ben, The Wendy Williams Show, The Harry Connick, Jr. Show, NBC Today Show with Kathy Lee & Hoda.
Monte's current project is building the M.O.N.T.E. brand, a line of hair care he launched in the fall of 2012. This collection of five essential hair products simplifies styling so women can achieve salon-quality results at home.
Monte resides in the Alexandria, VA area, where he devotes his free time collecting Jackie Kennedy memorabilia, as well as time to Capital Caring, a hospice organization, and is a supporter of The Welsh Terrier Cares Rescue Organization. A highlight of Monte's career was in 2011 when TLC/Discovery selected him as a special correspondent to cover the Royal Wedding of Prince William and Catherine Middleton in London, United Kingdom.