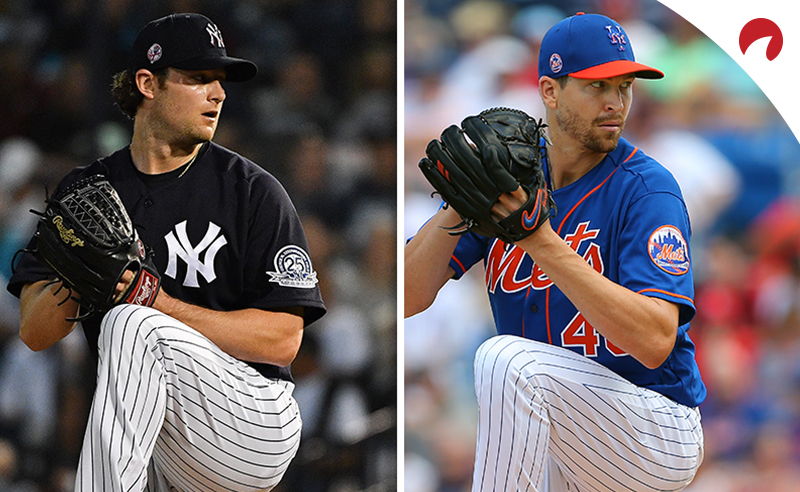 Finally, the delay of the MLB season because of the COVID-19 pandemic is coming to an end. MLB and the MLBPA have agreed to terms that would see the players return for training on July 1 with Opening Day for a shortened 60-game season coming later in the month.
How will a reduced schedule impact the pitchers? Could we get hurlers throwing deeper into games because innings restrictions could be lifted on young arms such as the Blue Jays' Nate Pearson? And pitchers who typically tail off in the dog days may have a legit shot at winning a Cy Young this year.
Online sportsbook Bovada has Jacob deGrom as the +325 favorite for the NL Cy Young Award followed by Walker Buehler at +500, Max Scherzer at +500, Jack Flaherty at +650 and Yu Darvish at +750 to round out the top five on the list.
Bovada also has made Gerrit Cole the +275 favorite to claim the AL Cy Young Award followed by Shane Bieber at +550, Justin Verlander at +600, Lucas Giolito at +900 and Blake Snell at +900 to round out the top five pitchers on the oddsboard.
For more baseball betting information, check out all our MLB content:
MLB Futures | MLB Win Totals | Odds To Make Playoffs | MVP Odds | How To Bet On Baseball | Best MLB Betting Sites
Odds to win the AL Cy Young Award

| Winner | Odds |
| --- | --- |
| Gerrit Cole | +275 |
| Shane Bieber | +550 |
| Justin Verlander | +600 |
| Lucas Giolito | +900 |
| Blake Snell | +900 |
| Tyler Glasnow | +950 |
| Mike Clevinger | +1000 |
| Jose Berrios | +1400 |
| Charlie Morton | +1500 |
| Zack Greinke | +1800 |
| Corey Kluber | +1800 |
| James Paxton | +2000 |
| Shohei Ohtani | +2000 |
| Eduardo Rodriguez | +2800 |
| Dallas Keuchel | +3000 |
| Carlos Carrasco | +3000 |
| Jesus Luzardo | +4000 |
Odds as of June 24 at Bovada
Here's a look at the full list of odds to win the National League Cy Young:
Odds to win the NL Cy Young Award

| Winner | Odds |
| --- | --- |
| Jacob deGrom | +325 |
| Walker Buehler | +500 |
| Max Scherzer | +500 |
| Jack Flaherty | +650 |
| Yu Darvish | +750 |
| Luis Castillo | +1000 |
| Trevor Bauer | +1300 |
| Stephen Strasburg | +1400 |
| Clayton Kershaw | +1500 |
| Mike Soroka | +1800 |
| Aaron Nola | +2500 |
| Chris Paddack | +2500 |
| Patrick Corbin | +4000 |
| Brandon Woodruff | +4000 |
| Madison Bumgarner | +4000 |
| Sonny Gray | +4000 |
| Max Fried | +5000 |
| German Marquez | +5000 |
| Mike Foltynewicz | +6000 |
| Josh Hader | +6600 |
Odds as of June 24 at Bovada
Why Is Cole The AL Cy Young Favorite?
Last season was the best of Gerrit Cole's seven-year career, with the 29-year-old posting a 20-5 record, a 2.50 ERA and a ridiculous 326 strikeouts in 212.1 innings. He ended up finishing second in Cy Young voting, collecting 13 first-place votes, just four shy of the winner and his then-teammate Justin Verlander.
Now with the World Series favorite New York Yankees, who also have the highest projected win total, if Cole has a repeat performance of last year, there's no way he doesn't win in 2020.
Who Is Providing Better Value Than Cole?
It will be tough to knock off Cole this season, but at +1800 you have to take a look at two-time AL Cy Young winner Corey Kluber. The 33-year-old missed the majority of last season after suffering a broken arm in May. Kluber was traded to the Rangers in the offseason and the delayed start to the season allows him to rehab even more.
The former Cleveland ace made two spring training starts, tossing seven innings and striking out six while allowing three earned runs. Prior to his injury-plagued season last year, he had finished with 18 or more wins in three straight seasons, sporting an ERA in the high 2s or low 3s and striking out more than 220 batters.
If he can have a healthy campaign, there's no doubt in my mind he will be in the Cy Young conversation come September.
Why is Jacob deGrom the NL Cy Young Favorite?
Well, to start, deGrom has won the last two NL Cy Young Awards, and nearly did it unanimously last year, collecting 29 of the 30 first-place votes. He's accomplished that despite having a 21-17 record over the past two seasons, a reflection of the poor run support New York's lineup has afforded him.
He had a 1.70 ERA in 2018 and a 2.43 mark in 2019, when he also led the NL with 255 strikeouts in 204 innings. The Mets have the potential to take the NL East and if they do, deGrom very well could pull off the three-peat.
Who Is Providing Better Value Than deGrom?
The NL is so deep in starting pitching with the likes of Max Scherzer, Stephen Strasburg and Clayton Kershaw. Picking the NL Cy Young winner in the preseason is like throwing a dart at a dartboard. That said, outside of deGrom, there is one young arm that I think is providing much more value and that is Mike Soroka (+1800).
Soroka burst onto the scene for the Atlanta Braves in 2019, becoming an all-star and finishing second in Rookie of the Year voting to Pete Alonso and sixth in Cy Young voting. The Canadian put together a 13-4 record with a 2.68 ERA and struck out 142 batters over 174.2 innings.
The last stat could use some improvement to put him up in the Cy Young conversation. If he can bring that average closer to a K per inning, this young man could be rewarded with some hardware at the end of the year.