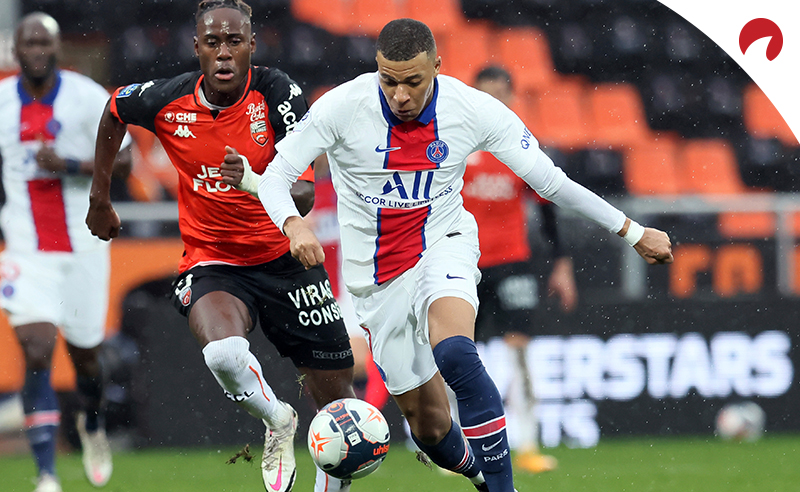 This year's French Ligue 1 has seen some surprising results, with defending champion Paris Saint-Germain starting the season particularly poorly. Before we look into whether another team might replace them as Ligue 1 champions at the end of the season, let's check out the latest Ligue 1 winner odds via Bovada.
Here's how the current odds are looking from the best soccer betting sites and their futures market for Ligue 1:
Ligue 1 Championship Odds
Odds To Win The 2020-21 Ligue 1 Championship

| Team | Odds |
| --- | --- |
| Paris Saint-Germain | -450 |
| Lyon | +500 |
| Lille | +600 |
| Monaco | +2000 |
| Rennes | +15000 |
| Marseille | +20000 |
| Lens | +100000 |
| Angers | +150000 |
| Montpellier | +150000 |
| Bordeaux | +200000 |
| Metz | +250000 |
| Nice | +250000 |
| Brest | +300000 |
| Nantes | +400000 |
| Nimes | +400000 |
| Racing Strasburg | +400000 |
| St. Etienne | +400000 |
| Stade Reims | +400000 |
| Dijon | +450000 |
| Lorient | +450000 |
Odds as of February 11 at Bovada
A Three-Horse Race
Paris Saint-Germain (-450) may have won seven of the last eight Ligue 1 titles, but the Ligue 1 winner odds can only look at what they're seeing so far. That is the fact that PSG – now under Mauricio Pochettino after Thomas Tuchel's dismissal earlier in the campaign – is a fallible side and is no longer guaranteed to beat teams lower than the top six in the table.
It could be that PSG's recent success and the pressure of matching it is catching up to them. With nine Ligue 1 titles in their history, PSG is just one title off the record of Marseille, which has 10 Ligue 1 trophies in its cabinet.
Since hiring former Southampton and Spurs manager Pochettino, Paris has looked exciting, won a trophy and sits just three points off the top after 24 games. With just 14 games to go, PSG is a big favorite to make up the gap and close it out for their record-equaling title. But what is in their favor and what could go against them?
There's no question that PSG has the best player in Ligue 1 in the form of Kylian Mbappe. With 16 goals and six assists, the French World Cup winner has only played 20 games and is still three goals clear of Memphis Depay of Lyon in the goalscoring charts even though the latter has played all 24 games, a clear indication of Mbappe's prowess. He and Neymar staying fit would help PSG immensely in closing out Ligue 1 on top.
Lyon and Lille Won't Go Away
The consistent threat of Lyon (+500) and Lille (+600) at the top of Ligue 1 hadn't had so much of an effect on the Ligue 1 winner odds in earlier weeks of the season as it is doing now. So, what's changed? The gap hasn't grown to an unmanageable extent for PSG, but it's the fact that the number of games to play is dropping and PSG still isn't in the top two.
Both leader Lille and second-placed Lyon have only lost twice in Ligue 1 this year, with Lille in particular in terrific form, having won their last five games. Lyon has won four in a row, and both teams will start to believe that they can shock the favorites.
Of the two sides, Lyon has the higher scorer in Depay, who has 13 goals and six assists from a shadow striker position. With 11 more goals coming from the impressive Karl Ekambi too (along with five assists), Lyon looks really dangerous at the top of the pitch and will scare every defense until the end of the season.
Of the two challengers, we'd take Lyon, which is only third in the Ligue 1 betting odds due to a two-point gap between them and Lille.
Who'll Make the Final Champions League Place?
It's looking highly likely that Monaco (+2000 for the title in the Ligue 1 winner odds) and Rennes (+15000) are the two sides who'll battle to finish in fourth place. Of the pair, we'd say that the 10-point lead Monaco has in that race currently makes their occupation of fourth place look unlikely to change.
Rennes has a game in hand, but without a win in three games and having only scored 31 goals to Monaco's 50, we can't see them bridging that gap. Monaco has won five on the spin and, if anything, looks as capable of challenging the teams at the very top of Ligue 1 as batting off any challengers from below them in the table.
Who'll be Relegated from Ligue 1?
With so much to fight for at the top of Ligue 1, betting odds for those facing relegation haven't been considered so much by some punters, but they should. With the bottom two, Nimes (+400000) and Dijon (+450000), on 15 points, the pair are seven points from safety, but they could still get out of trouble purely due to how poorly some of the sides above them are doing.
One side that looks like it should escape danger is Lorient, lowest in the Ligue 1 winner odds at +450000. Those odds are unkind to a side with three wins and a draw in their last four games and having looked to be doomed to demotion around Christmas, Lorient is in better form than some top-half sides in Ligue 1.
Nantes (+400000) hasn't won a Ligue 1 game since a November 8 victory over Lorient and has been more or less wretched ever since. They look a great bet to remain in the bottom three until the end of the season, leading to their relegation from Ligue 1.
Overall, Ligue 1 looks to be far from settled at both the top and bottom of the table, with the title still very much on the line and half a dozen teams still well capable of dropping into Ligue 2 if they're not very careful.
We'll be back to update this page in the next few weeks as the Ligue 1 winner odds change and the best betting odds appear via Bovada. In French football, momentum is everything and very few teams have it at the moment, making it a potentially exciting last few months of the Ligue 1 season.