If you've played traditional roulette but are new to the world of online casino games, or you've just never tried European Roulette Pro before, it helps to get a better understanding of what the game has to offer. Discover more about this beautiful digital casino game in our review.
Game overview
This exciting game comes from Swedish casino game developer Play'n GO, whose numerous titles include Feline Fury, Jolly Roger 2, and 3-Hand Casino Hold'Em. This online casino game uses the standard European roulette wheel, which offers slightly better odds than the American equivalent. The wheel contains 37 pockets, which are numbered 1 to 36, and alternate between the colors of red and black. It also features a single zero pocket, which is colored green.
How to play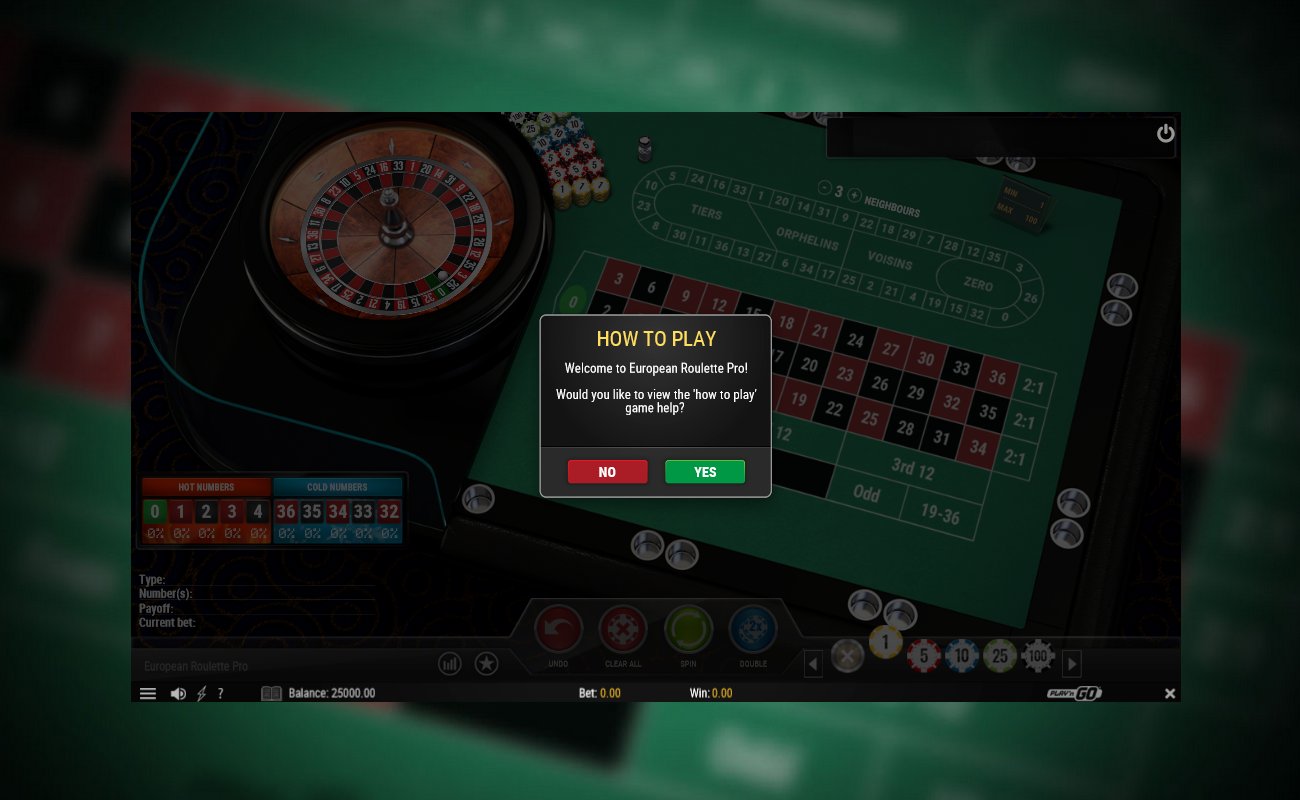 If you've never played roulette online before, the game has a tutorial but it will only explain the special features of European Roulette Pro. But don't worry: here's a quick rundown on how to play roulette so you can get to grips with the game.
In this casino game, a ball drops into the spinning wheel when you click the "Spin" button. As we described earlier, this wheel has a variety of pockets, each with different numbers and different colors. As a player, you need to choose where you wish to place your bet before you click "Spin", and if you're lucky and the ball lands on your bet, you're the winner!
Roulette has a variety of bets, some which are simple and have a higher chance of paying a small payout; others are more complicated and carry a much lower chance of paying a much higher payout. For example, you can place a bet on red for a 50-50 chance to win. However, if you do manage to win, you'll only take what you paid in (you get your original stake back as well, of course). Or you could choose to place a bet on any single number, like the number 3, which pays out 35 times what you bet if the ball lands on it. The game also offers various specific bets. These are located at the top of the table in a special betting area referred to as the "Racetrack".
These bets are:
Tiers du cylindre
Orphelins a cheval
Voisins du zero
Jeu 0
Neighbours
The first four bets in this list are preset bets. When you choose one of these four, the game will place a chip of your selected value on each number that's part of the bet. The Neighbours bet is a bit more flexible in that you can choose how many "neighbors" of a number to bet on at the top of the table. You can go as low as zero, or as high as 8. When you hover over a number in the Racetrack, it will highlight the relevant number of neighbors, depending on how many you've selected to have.
To place a bet, all you need to do is click on the chips you want to stake, which are numbered 1, 5, 10, 25 and 100, and then select your bet.
After you've placed your bets, all you have to do is click "Spin" and see if lady luck's on your side!
Features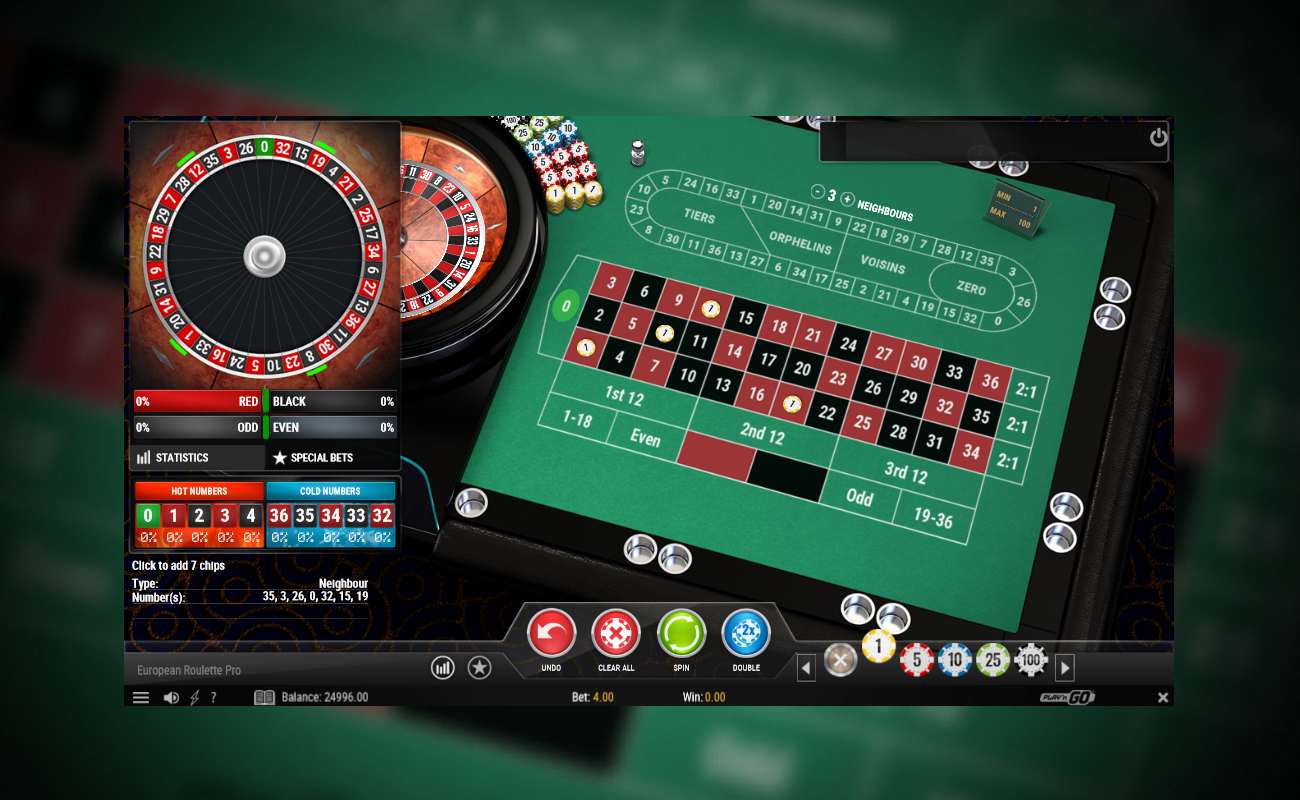 As we mentioned earlier, the first time you play European Roulette Pro, a tutorial will ask if you need help learning how to play. While it doesn't teach you the basics, it does teach you about the game's features.
It begins by showing you how to select a chip, and how to bet by placing it on the desired bet on the table. It also takes you through each of the game's action buttons. These four buttons are "Undo", "Clear All", "Spin", and "Double".
On the left are the special stats, which show you the numbers that are hot and cold. This means the game will show you which numbers have won the most, and which numbers have won the least, in the most recent games. (Bear in mind that each number on the roulette wheel is just as likely to pop up as the next, though!)
You can click the graph icon on the toolbar to open the Statistics window. Here, you can view what's doing well, whether that's red, black, odds, or evens. If you have a bet selected, you can also choose the numbers on the wheel itself in the Statistics window to place your wager. As you click on the wheel, you'll see the bets appear on the table to the right.
Just next to it is a star icon, which opens the Special Bets window. In this window, there's the "Pre-set Bets" on the right, where you can choose from a list of pre-existing bets, and the "Favourite Bets" on the left, where you can choose or customize your own bets!
If you're ever confused, don't worry: the book icon in the bottom left will restart the tutorial and explain all these features to you again.
Additional features in this game include the betting information which is displayed on the bottom left as you navigate over each of the different types of bets on the table. For example, hover over the black bet on the table, and it will tell you the type of bet, the numbers it applies to, the payoff, and your current bet. While the amount of information varies from bet to bet, this is still an incredibly useful feature for those who are new to the game, and will help you compare the relative payoffs of different bets.
The game also has a "Fast" play mode, which is accessible by either clicking the lightning bolt in the bottom left corner, or by opening up the settings menu and selecting "Fast play".
Finally, if you're interested in excellent graphics, voice-overs and music, you can't go wrong with European Roulette Pro – it ticks all the boxes!
Similar games
Are you interested in other casino games like European Roulette Pro? Here are some other roulette online experiences, as well as other table games:
Play roulette online with Borgata Online
Ready to try your luck and play roulette online? Borgata Online Casino has some of the best experiences for you to enjoy, as well as other table games, such as blackjack, poker, and baccarat. Or, if online slots appeal to you, try any of our dozens of online slot games!
Get in the action by registering with Borgata Online today!