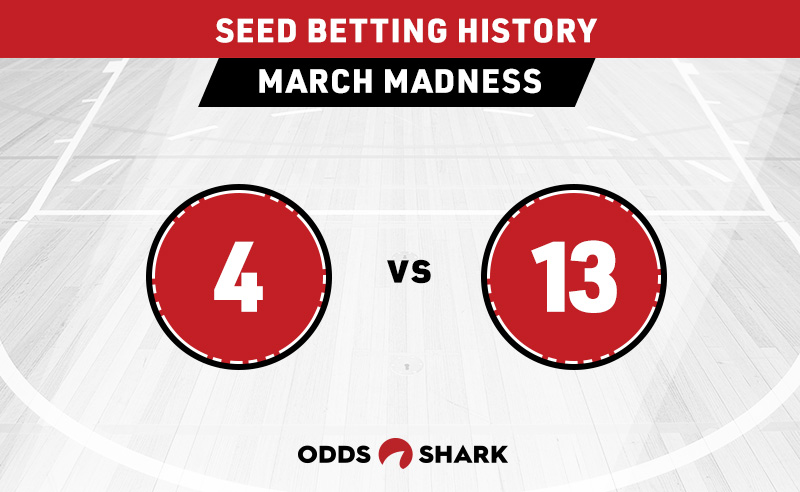 If a No. 13 seed upsetting a No. 4 seed in the NCAA Tournament seems like a huge long shot, be aware that it has happened at least once in 14 of the past 19 tournaments, the exceptions being 2004, 2007, 2014, 2015 and 2017.
And four times since the tourney field expanded to 64 teams in 1985, there have been two upsets involving No. 13 seeds in the same year (1987, 2001, 2008 and 2018). In fact, 2014's 4-0 sweep by the No. 4 seeds ended a string of six consecutive seasons in which there had been at least one No. 13 seed advancing past the first round in the March Madness bracket.
Buffalo and Marshall pulled off the upset as No. 13 seeds in 2018.
It was nearly a clean sweep for No. 4 seeds in 2016 and 2017, as the only higher seed to lose was Cal in '16. The Golden Bears were upset 77-66 by Hawaii, despite closing as 5.5-point favorites, but Cal was missing several players due to injuries and popular assistant coach Yann Hufnagel following his dismissal amid sexual harassment allegations. Aside from Cal's poor performance, Duke just barely held off a hard-charging UNC Wilmington team and won 93-85 while failing to cover the 10-point spread.
In the 2018 NCAA Tournament, No. 13 seeds Buffalo and Marshall upset Arizona and Wichita State, respectively. Both teams ended up falling in the Round of 32, however.
No. 13 seeds haven't gone down without a fight even in years when they didn't manage an upset. In 2015, they still went 3-1 ATS with Valparaiso (+5), UC Irvine (+8.5) and Harvard (+9.5) each covering the number in games that were decided by a combined seven points. In 2012 and 2013, the No. 13 seeds went 2-6 ATS but both teams that covered moved on to the next round. In 2010 and 2011, the No. 13 seeds went 5-3 ATS.
See Odds Shark's Best March Madness Sites
Largest No. 13 Seed Upsets In March Madness History
There have been 29 No. 13 seeds that have pulled off upsets in the first round over the past 34 years of the NCAA Tournament. That includes the very first year of the bigger March Madness bracket in 1985 when Navy crushed LSU 78-55 for the largest margin of victory ever for the matchup.
Even though college basketball bettors have never seen a No. 13 seed win a Sweet 16 game, six have made it to the third round before getting knocked out at that point of the NCAA Tournament. The two most recent times saw La Salle (2013) and Ohio (2012) take down No. 12 seeds in the second round to make it to the Sweet 16, which has actually happened in three of the six occurrences overall.
Seed vs Seed Stats: 1 vs 16 | 2 vs 15 | 3 vs 14 | 4 vs 13 | 5 vs 12 | 6 vs 11 | 7 vs 10 | 8 vs 9
#4 Seed vs #13 Seed

| #4 Seed | Score | #13 Seed | Score | Date | ATS Win | Win Seed | ATS Seed |
| --- | --- | --- | --- | --- | --- | --- | --- |
| Kansas State | 64 | UC Irvine | 70 | 2019-03-22 | UC Irvine | 13 | 13 |
| Florida State | 76 | Vermont | 69 | 2019-03-21 | Vermont | 4 | 13 |
| Virginia Tech | 73 | St. Louis | 47 | 2019-03-22 | Virginia Tech | 4 | 4 |
| Kansas | 87 | Northeastern | 53 | 2019-03-21 | Kansas | 4 | 4 |
| Gonzaga | 68 | UNC Greensboro | 64 | 2018-03-15 | UNC Greensboro | 4 | 13 |
| Arizona | 68 | Buffalo | 89 | 2018-03-15 | Buffalo | 13 | 13 |
| Wichita State | 75 | Marshall | 81 | 2018-03-16 | Marshall | 13 | 13 |
| Auburn | 62 | Charleston | 58 | 2018-03-16 | Charleston | 4 | 13 |
| Florida | 80 | East Tennessee State | 65 | 2017-03-16 | Florida | 4 | 4 |
| Purdue | 80 | Vermont | 70 | 2017-03-16 | Purdue | 4 | 4 |
| West Virginia | 86 | Bucknell | 80 | 2017-03-16 | Bucknell | 4 | 13 |
| Butler | 76 | Winthrop | 64 | 2017-03-16 | Butler | 4 | 4 |
| Iowa State | 94 | Iona | 81 | 2016-03-17 | Iowa State | 4 | 4 |
| Duke | 93 | UNC Wilmington | 85 | 2016-03-17 | UNC Wilmington | 4 | 13 |
| Kentucky | 85 | Stony Brook | 57 | 2016-03-17 | Kentucky | 4 | 4 |
| California | 66 | Hawaii | 77 | 2016-03-18 | Hawaii | 13 | 13 |
| Maryland | 65 | Valparaiso | 62 | 2015-03-20 | Valparaiso | 4 | 13 |
| Louisville | 57 | UC Irvine | 55 | 2015-03-20 | UC Irvine | 4 | 13 |
| Georgetown | 84 | Eastern Washington | 74 | 2015-03-19 | Georgetown | 4 | 4 |
| North Carolina | 67 | Harvard | 65 | 2015-03-19 | Harvard | 4 | 13 |
| UCLA | 76 | Tulsa | 59 | 2014-03-21 | UCLA | 4 | 4 |
| San Diego State | 73 | New Mexico State | 69 | 2014-03-20 | New Mexico State | 4 | 13 |
| Louisville | 71 | Manhattan | 64 | 2014-03-20 | Manhattan | 4 | 13 |
| Michigan State | 93 | Delaware | 78 | 2014-03-20 | Michigan State | 4 | 4 |
| Kansas State | 61 | La Salle | 63 | 2013-03-22 | La Salle | 13 | 13 |
| Syracuse | 81 | Montana | 34 | 2013-03-21 | Syracuse | 4 | 4 |
| Michigan | 71 | South Dakota State | 56 | 2013-03-21 | Michigan | 4 | 4 |
| Saint Louis | 64 | New Mexico State | 44 | 2013-03-21 | Saint Louis | 4 | 4 |
| Michigan | 60 | Ohio | 65 | 2012-03-16 | Ohio | 13 | 13 |
| Indiana | 79 | New Mexico State | 66 | 2012-03-15 | Indiana | 4 | 4 |
| Wisconsin | 73 | Montana | 49 | 2012-03-15 | Wisconsin | 4 | 4 |
| Louisville | 69 | Davidson | 62 | 2012-03-15 | Louisville | 4 | 4 |
| Texas | 85 | Oakland | 81 | 2011-03-18 | Oakland | 4 | 13 |
| Wisconsin | 72 | Belmont | 58 | 2011-03-17 | Wisconsin | 4 | 4 |
| Kentucky | 59 | Princeton | 57 | 2011-03-17 | Princeton | 4 | 13 |
| Louisville | 61 | Morehead State | 62 | 2011-03-17 | Morehead State | 13 | 13 |
| Maryland | 89 | Houston | 77 | 2010-03-19 | Maryland | 4 | 4 |
| Wisconsin | 53 | Wofford | 49 | 2010-03-19 | Wofford | 4 | 13 |
| Purdue | 72 | Siena | 64 | 2010-03-19 | Purdue | 4 | 4 |
| Vanderbilt | 65 | Murray State | 66 | 2010-03-18 | Murray State | 13 | 13 |
| Wake Forest | 69 | Cleveland State | 84 | 2009-03-20 | Cleveland State | 13 | 13 |
| Xavier | 77 | Portland State | 59 | 2009-03-20 | Xavier | 4 | 4 |
| Gonzaga | 77 | Akron | 64 | 2009-03-19 | Akron | 4 | 13 |
| Washington | 71 | Mississippi State | 58 | 2009-03-19 | Washington | 4 | 4 |
| Vanderbilt | 62 | Siena | 83 | 2008-03-21 | Siena | 13 | 13 |
| Connecticut | 69 | San Diego | 70 | 2008-03-21 | San Diego | 13 | 13 |
| Washington State | 71 | Winthrop | 40 | 2008-03-20 | Washington State | 4 | 4 |
| Pittsburgh | 82 | Oral Roberts | 63 | 2008-03-20 | Pittsburgh | 4 | 4 |
| Southern Illinois | 61 | Holy Cross | 51 | 2007-03-16 | Southern Illinois | 4 | 4 |
| Texas | 79 | New Mexico State | 67 | 2007-03-16 | Texas | 4 | 4 |
| Virginia | 84 | Albany | 57 | 2007-03-16 | Virginia | 4 | 4 |
| Maryland | 82 | Davidson | 70 | 2007-03-15 | Maryland | 4 | 4 |
| Kansas | 73 | Bradley | 77 | 2006-03-17 | Bradley | 13 | 13 |
| Illinois | 78 | Air Force | 69 | 2006-03-16 | Illinois | 4 | 4 |
| LSU | 80 | Iona | 64 | 2006-03-16 | LSU | 4 | 4 |
| Boston College | 88 | Pacific | 76 | 2006-03-16 | Boston College | 4 | 4 |
| Syracuse | 57 | Vermont | 60 | 2005-03-18 | Vermont | 13 | 13 |
| Louisville | 68 | Louisiana-Lafayette | 62 | 2005-03-18 | Louisiana-Lafayette | 4 | 13 |
| Florida | 67 | Ohio | 62 | 2005-03-18 | Ohio | 4 | 13 |
| Boston College | 85 | Pennsylvania | 65 | 2005-03-17 | Boston College | 4 | 4 |
| Kansas | 78 | Illinois-Chicago | 53 | 2004-03-19 | Kansas | 4 | 4 |
| Cincinnati | 80 | East Tennessee State | 77 | 2004-03-19 | East Tennessee State | 4 | 13 |
| Wake Forest | 79 | Virginia Commonwealth | 78 | 2004-03-18 | Virginia Commonwealth | 4 | 13 |
| Maryland | 86 | Texas El Paso | 83 | 2004-03-18 | Texas El Paso | 4 | 13 |
| Louisville | 86 | Austin Peay | 64 | 2003-03-21 | Louisville | 4 | 4 |
| Dayton | 71 | Tulsa | 84 | 2003-03-20 | Tulsa | 13 | 13 |
| Stanford | 77 | San Diego | 69 | 2003-03-20 | Stanford | 4 | 4 |
| Illinois | 65 | Western Kentucky | 60 | 2003-03-20 | Western Kentucky | 4 | 13 |
| Illinois | 93 | San Diego State | 64 | 2002-03-15 | Illinois | 4 | 4 |
| Ohio State | 69 | Davidson | 64 | 2002-03-14 | Davidson | 4 | 13 |
| USC | 89 | UNC Wilmington | 93 | 2002-03-14 | UNC Wilmington | 13 | 13 |
| Kentucky | 83 | Valparaiso | 68 | 2002-03-14 | Kentucky | 4 | 4 |
| Oklahoma | 68 | Indiana State | 70 | 2001-03-16 | Indiana State | 13 | 13 |
| Kansas | 99 | CS Northridge | 75 | 2001-03-16 | Kansas | 4 | 4 |
| UCLA | 61 | Hofstra | 48 | 2001-03-15 | UCLA | 4 | 4 |
| Indiana | 73 | Kent State | 77 | 2001-03-15 | Kent State | 13 | 13 |
| Illinois | 68 | Pennsylvania | 58 | 2000-03-17 | Illinois | 4 | 4 |
| Tennessee | 63 | Louisiana-Lafayette | 58 | 2000-03-17 | Louisiana-Lafayette | 4 | 13 |
| Syracuse | 79 | Samford | 65 | 2000-03-16 | Syracuse | 4 | 4 |
| LSU | 64 | SE Missouri State | 61 | 2000-03-16 | SE Missouri State | 4 | 13 |
| Tennessee | 62 | Delaware | 52 | 1999-03-12 | PUSH | 4 | |
| Arizona | 60 | Oklahoma | 61 | 1999-03-12 | Oklahoma | 13 | 13 |
| Ohio State | 72 | Murray State | 58 | 1999-03-11 | Ohio State | 4 | 4 |
| Arkansas | 94 | Siena | 80 | 1999-03-11 | Arkansas | 4 | 4 |
| Mississippi | 69 | Valparaiso | 70 | 1998-03-13 | Valparaiso | 13 | 13 |
| New Mexico | 79 | Butler | 62 | 1998-03-13 | New Mexico | 4 | 4 |
| Michigan State | 83 | Eastern Michigan | 71 | 1998-03-12 | Michigan State | 4 | 4 |
| Maryland | 82 | Utah State | 68 | 1998-03-12 | Maryland | 4 | 4 |
| Clemson | 68 | Miami (Ohio) | 56 | 1997-03-14 | Clemson | 4 | 4 |
| Saint Joseph's | 75 | Pacific | 65 | 1997-03-13 | Saint Joseph's | 4 | 4 |
| Arizona | 65 | South Alabama | 57 | 1997-03-13 | South Alabama | 4 | 13 |
| Villanova | 101 | Long Island | 91 | 1997-03-13 | Long Island | 4 | 13 |
| Syracuse | 88 | Montana State | 55 | 1996-03-14 | Syracuse | 4 | 4 |
| UCLA | 41 | Princeton | 43 | 1996-03-14 | Princeton | 13 | 13 |
| Utah | 72 | Canisius | 43 | 1996-03-14 | Utah | 4 | 4 |
| Marquette | 68 | Monmouth | 44 | 1996-03-14 | Marquette | 4 | 4 |