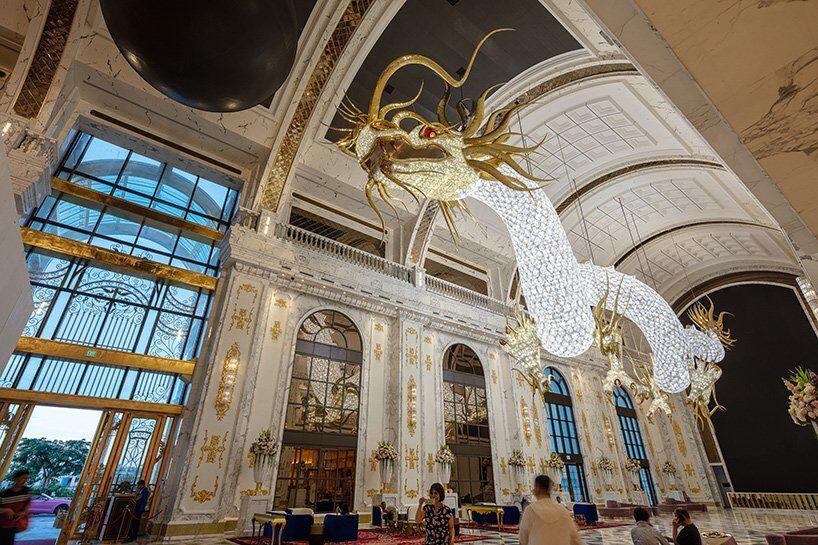 IMPERIAL Pacific International LLC receiver Joyce Tang wants to know whether the two crystal dragons in the IPI hotel-casino lobby are among IPI's assets.
Tang said if the crystal dragons are IPI assets then they should be on the list of IPI assets.
She said based on a recent online search she conducted, "I read [the crystal dragons are] quite valuable."
The crystal dragons are reportedly worth about $129 million.
According to the designboom website, LASVIT, a Czech glassmaking company, "installed a crystal gem-studded sculpture featuring two flying dragons within a casino resort in Saipan. Spanning over 60 meters (200 feet) and weighing 40 metric tons (44 U.S. tons), the project is described as 'the largest piece of jewelry ever made.' [Thirteen thousand] stainless steel scales fitted with crystals were made to cover the dragon's body, with more than 2.5 million [S]warovski crystals used to decorate the scales. Each crystal is illuminated and can change color, meaning that the dragon can turn from green to red almost instantly."
Tang asked attorney Michael Dotts, who represents IPI in the litigation, for clarification regarding the casino investor's assets.
Dotts told the court that the crystal dragons are still in the hotel-casino lobby, but he does not know who owns them.
"It is possible that the crystal dragons were leased from another company," Dotts added.
Tang requested the court to instruct IPI to provide and submit information regarding the crystal dragons, including "the price amount that they, IPI, paid for it, and the confirmation of ownership."
Chief Judge Ramona V. Manglona of the District Court for the NMI recently granted the request of the U.S. Department of Labor to appoint Tang as receiver of IPI.
Judge Manglona also granted USDOL's request to allow the parties to pursue a possible settlement that involves IPI paying off the balance of the consent judgment.
The court imposed a self-executing receivership that will take effect on March 12 at 1:30 p.m. should IPI fail to pay the balance at that time.
Judge Manglona previously found IPI, IPI Holdings Ltd., and IPI chairwoman Cui Li Jie in contempt of court for violating the previous consent judgment with the USDOL and for not paying IPI's current employees for over two months.
IPI last week informed the court that it wouldn't be able to pay the consent judgment, prompting the USDOL to nominate Joyce Tang, a Guam lawyer who is the trustee of the CNMI Settlement Fund, as receiver of IPI.